On Saturday, December 18, the Jokes Up Ice Kream dispensary in LA's Studio City held a major event to launch a total of eight collaboration strains with artists and influencers throughout the US. The strains are now available at both Jokes Up Ice Kream dispensary locations (Studio City and the Jokes Up Plaza Popup in DTLA).
Jokes Up Founder Yung LB is co-owner of the iconic Runtz brand, and the strain of the same name that they popularized is as big as its ever been in the over five years that it appeared. Almost all of the new Jokes Up collab strains are Runtz crosses, but LB says they're also bringing new genetics to the table. All strains are considered in the exotics category.
The event included a meet and greet with all eight featured collab artists.
Dropping new strains at the event were Yung LB himself (King Cut), Kalan.FrFr (Foam Fingaz), Kandy Paint Lee (Kandy Paint), Freeza (Ice Kream Freeza), Whoo Kid (Whoodini), Maxo Kream (Texas Tea), Mike the Credit Champ (Credit Approval Rating), and Bombatta (Bombatta). For many, it was the first time that their strain had been available in California.
Weed brand Bombatta is based out of Indianapolis and headed by The Homie Jai. Jai says that the drop of their strain, the self-titled Bombatta, is his first official debut on the rec market in California, after working with Jokes Up over the past year.
"We're grateful for the opportunity that Jokes Up and Ice Kream have given us. This year has been amazing. We learned a lot, built a lot of relationships," Jai said.
For Jai, Saturday's drop was the start of the next phase of Bombatta.
"We're going into the new year great, we're on the shelves now. In our eyes this is where it starts," Jai said.
Jokes Up gives indie weed entrepreneurs like Jai a way to get in to the industry. Jai says he met LB through fellow Jokes Up influencer Mike the Credit Champ, who also dropped a new strain Saturday. Jai also co-owns a music production company, and music was the way he got in to weed.
According to Jai, he's grateful and inspired by the opportunity.
"We're showing our appreciation by going hard and representing Jokes Up in the best way possible," Jai said.
Houston's Candy Paint Lee was already well known on the weed scene with his Candy Paint brand, but he says he partnered with Jokes Up to bring it to the California rec market.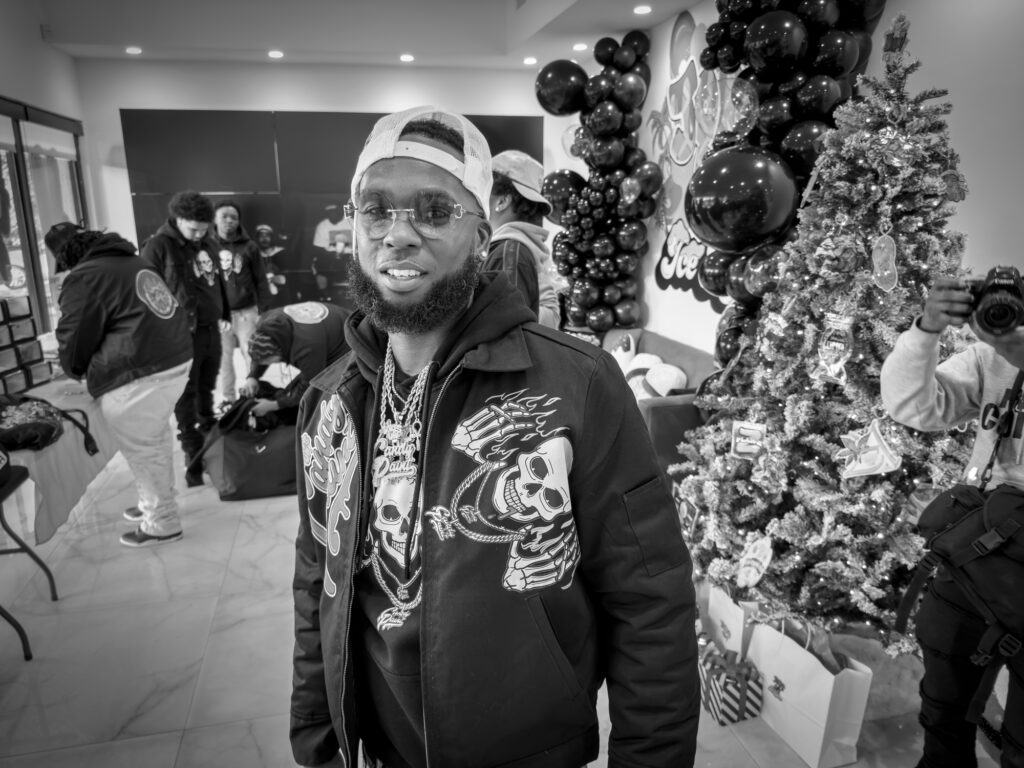 "Today we're releasing Candy Paint as a strand. We've been here as a brand for a while but we're now partnering with Jokes Up/Ice Kream to have a great flavored strand to math the name Candy Paint," Lee said.
Candy Paint refers to car culture, which Lee says can be found in every city in the country. He wants his brand represent car culture, specifically that of his city Houston.
It's the first time his flower has been available in California and on the rec market. He says his strain is a Runtz cross with more of a candy flavor.
"I trust them guys one hundred percent with what they've been doing," Lee said. "When I smoke it, it tastes like candy. They definitely made it to the quality they're known for," Lee said.
He started working with LB through music and meeting each other on the scene over time. Lee runs his own music label out of Houston.
"He seen my vision, and he's like bro, I'm gonna help you with that. Him and Scott were one of the first and only to give me the opportunity. I appreciate that," Lee said. "This is life changing for me. I'm trying to be ahead of the curve in Texas," Lee said.
Atlanta musician Freeza dropped his latest strain, Ice Kream Freeza. Freeza first dropped his self-named strain with Fire Society last year (owned by Ray Bama, co-owner with LB of Runtz), and then worked with Jokes Up.
"It's a strand that me and Scott and LB have been working on putting together. It's a special strand, special genetics," Freeza said.
He says it is, of course, a Runtz cross.
"Everything we do is crossed with Runtz. It gotta have a candy flavor," Freeza said.
When it comes to music and weed, Freeza said, "one helps the other." He says he met LB in Atlanta through music and teamed up around the Runtz strain.
Mike the Credit Champ dropped his second strain with Jokes Up, a Runtz cross called Credit Approval Rating. Mike's brand is all about credit repair, but he himself has become a sort of celebrity and influencer based on the name he built for himself. He and LB worked together on credit before Mike teamed up with Jokes Up.
Yung LB dropped Kings Cut, which he described as "royalty." He says he's been R&Ding strains for the past 6-9 months. At lot of genetics for this drop came from the Bay Area.
The big end of year drop, LB says, was the idea of all of the artists he collabed with.
"To be honest, it was all on them. I've been dealing with all these brands for months, years, and this is what they wanted to do before the the year was over with, so they could legally be on shelves," LB said.
"We've been working on this a while now. It made sense to bring it all together." LB Said. "It was a great end of the year drop."
Jokes Up collaborated with Ice Kream to open Jokes Up Ice Kream dispensary about six months ago. It allows Jokes Up to have a legal outlet for their strains and their family of strain-brands (that LB calls "strands.")
"We got somewhere to legally display all of our products and show the artistic side of it, like our packaging. It's cool," LB said.
LB says that he created Jokes Up in order to give people with a similar background to him an opportunity to create their own business.
"That's my whole end goal. I never had no opportunity, so with the platform we created and I got to this space, why wouldn't I provide a platform for my people around me? If they serious about investing in their career and themselves, then we can sit down and I can help you with some mentorship," LB said.
2023 is going to be big for both Jokes Up and Runtz, LB said.
His goal is to see this new crop of brands grow and expand next year. He's not worried about creating competition for Runtz. In fact, he says, he'd like to see others innovate the same way he did.
"I want to be able to showcase them and I want to see what type of plays they bring to the table. I can't do all the shit, I want to see what's the new and improved, I want to see some new shit coming in," LB said.
"It's giving them an opportunity to shine," LB said.
New York's DJ Whoo Kid dropped his first strain ever, after years of interviewing and creating content with celeb potheads.
"They gave me the idea when I hung out with LB," Whoo Kid says. "He said, what the fuck, man. You do hotboxing with Mike Tyson, you smoke weed with Cheech and Chong, Wiz, Willie Nelson and Snoop. Why the fuck you don't have a strain?"
Whoo Kid says that he was told that his strain was strong, so he had to make sure that the people around him agreed.
"I gave it to all my pothead friends that are legends and they all told me yeah, this is it right here. And they want more. So thank you Jokes Up Ice Kream," Whoo Kid said.
The strains are now available at Jokes Up Ice Kream at 11376 Ventura Blvd, Studio City.